Ding Dong Cake is a rich American dessert featuring layers of chocolate cake, a creamy filling, and chocolate glaze. Named after Hostess Ding Dongs, it's a beloved treat for chocolate lovers and special occasions.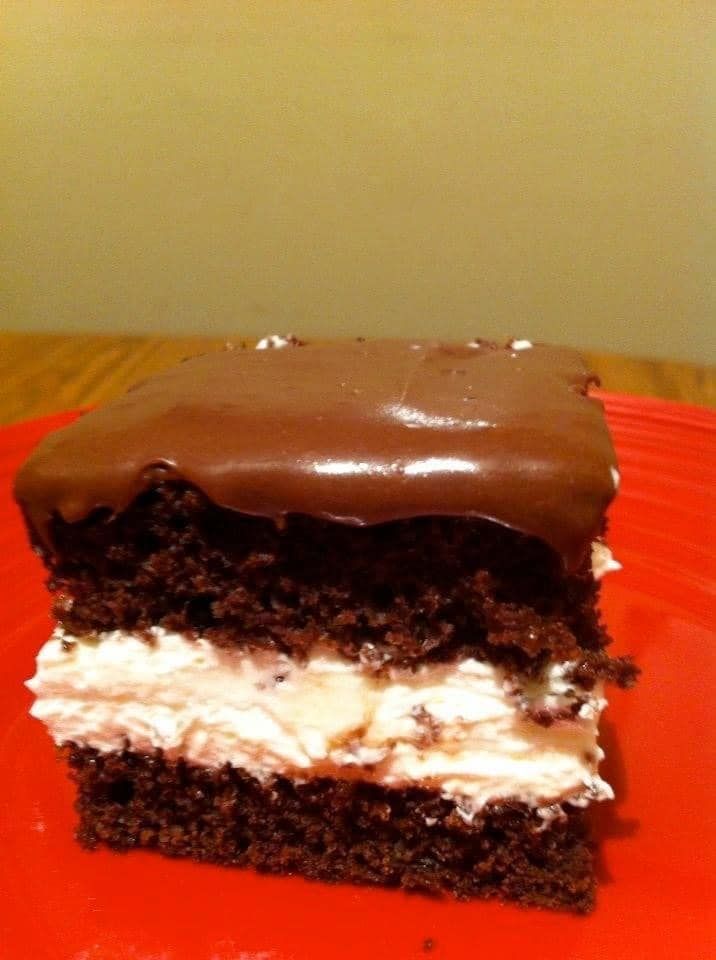 Ingredients:
For the Cake:
1 box of Chocolate cake mix
Ingredients required to bake the cake as directed on the box
For the Filling:
1 package (8 oz) cream cheese, softened
3 cups powdered sugar
1 stick (1/2 cup) margarine, softened
1 container of Cool Whip (8 oz), thawed
For the Chocolate Glaze:
1 can of chocolate icing
2 tablespoons milk
Instructions:
Start by preparing the chocolate cake according to the instructions on the cake mix box. This typically involves mixing the cake mix with the specified ingredients (e.g., eggs, water, oil) and baking it as directed. Once baked, allow the cake to cool in the pan for 10 minutes.
After the cake has cooled for 10 minutes, carefully remove it from the pan and place it on a cooling rack. Let it cool completely.
Once the cake has cooled, carefully slice it in half horizontally to create two even layers.
Place one half of the cake back into the bottom of the pan, ensuring it fits snugly.
In a mixing bowl, combine the softened cream cheese, powdered sugar, and softened margarine. Use a mixer to blend the ingredients until smooth and creamy.
Gently fold in the thawed Cool Whip into the cream cheese mixture until well combined.
Spread the cream cheese mixture evenly over the layer of cake in the pan.
Carefully place the second cake layer on top of the cream cheese filling, creating a sandwich-like structure.
In a separate bowl, combine the can of chocolate icing with 2 tablespoons of milk. Stir until the mixture is smooth and easily spreadable.
Generously spread the chocolate glaze over the top of the cake.
To allow the flavors to meld and the cake to set, refrigerate the Ding Dong Cake.
Serve chilled, and enjoy your delicious Ding Dong Cake!
Note: You can decorate the cake with additional chocolate shavings, if desired, before refrigerating for added flair.