Crispy cheesy hash browns are a delicious breakfast dish made from grated potatoes mixed with cheese. They're fried until golden brown and crunchy on the outside while being soft inside. They're a versatile treat, great for breakfast or as a flavorful side dish.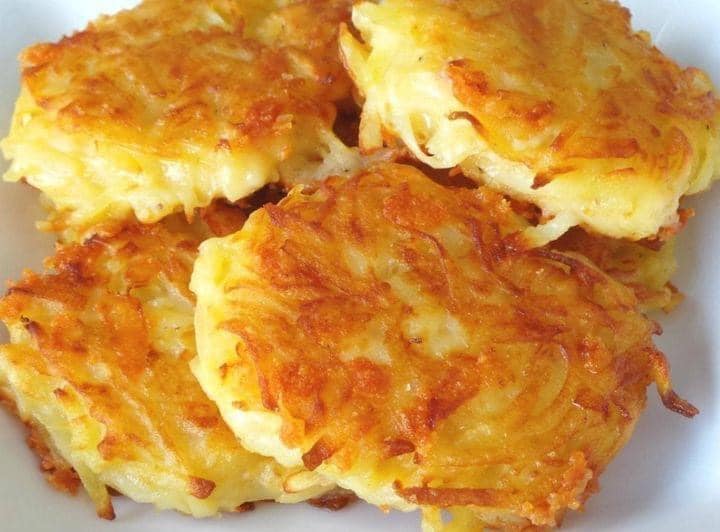 Ingredients:
3 small russet potatoes, peeled
1/3 cup all-purpose flour
1 large egg
3 tbsp butter, softened
3/4 cup shredded cheddar cheese
1 tsp salt
1/2 tsp black pepper
Cooking oil, for frying
Instructions:
Start by boiling a pot of water. Gently place the peeled russet potatoes into the boiling water and let them cook for about 6 minutes.
Once done, drain the potatoes and rinse them under cold water until they're cool enough to handle.
Grate the cooled potatoes and place them in a medium-sized bowl.
To the grated potatoes, add the all-purpose flour, large egg, softened butter, shredded cheddar cheese, salt, and black pepper. Mix thoroughly until all the ingredients are well combined.
Grease a 1/3 cup measuring cup and use it to scoop the mixture. Shape the mixture into patties using your hands.
In a large skillet, heat a few tablespoons of cooking oil over medium-high heat.
Carefully add the formed hash brown patties to the skillet in batches, ensuring they don't overcrowd the pan. Cook each patty for approximately 3 minutes on each side or until they turn golden brown and crispy.
As needed, add more oil to the skillet while cooking the batches of hash browns.
Once cooked, transfer the hash browns to a plate lined with paper towels to absorb any excess oil.
Serve the crispy and cheesy hash browns while they're still hot and enjoy!
(Note: Always exercise caution when working with hot oil and boiling water.)